**EDIT** I mention that you can't listen to music while playing Flash games, which was true when the product was released. However, the new firmware update fixes that problem, so I apologize for not checking that out.
I got a new mp3 player a couple of weeks ago and I love it so much that I've been dying to review it. It came out last Spring (though my model came out later in the year since it's 8GB), but since I didn't find a video review that had audio and video I thought I'd fill the gap. You don't have to watch the video to enjoy my written review, but I think the visual will help (just turn down the volume if you hate my dorky voice; I apologize for the cluttering).
My iRiver Clix2 Review
from
Eptiger
on
Vimeo
.
I hope that wasn't too tough to watch: it was my first try at a video review. I recommend at least skimming it just to get a feel for the navigation (again, turn the volume down if you want).
Given that my
iPod Shuffle
barely stays on my armband anymore (I had to glue back the USB part because it so easily snapped off at the gym one day), I tried to replace it last Spring with the Sansa c250 and miserably failed. After that, I decided to pay attention to quality, not so much price, in searching for a small, flash-based mp3 player with a screen so that I could not only play music at the gym (from a playlist created on my computer), but also listen to podcasts on the bus and possibly even watch video podcasts. After doing a lot of research, I narrowed it down to the
Cowon D2
, the iRiver
Clix
, the
Creative Zen
, and the
iPod Nano
. After reading the reviews and deciding the features I wanted that they had issues with (the
Zen
's expansion slot is actually almost useless), I decided that it was either the
Nano
or the
Clix
, and when iRiver offered a $40 rebate it was pretty much a no-brainer. I have to say that it was a surprisingly smart decision: this is, without a doubt, the best mp3 player I've ever interacted with aside from the iPod Touch.
Let's start with size, style, and navigation. This device is pretty much as small as you really need to be. It's definitely a little bigger than a Nano and a little thicker, but I never jumped on the "I want the thinnest mp3 player in the world" bandwagon so it's pretty reasonably thin to me. It easily slides into one's pocket. It's not even that heavy because I don't really notice it at the gym except for when I have to rotate the armband on my arm occasionally (I bought a silicone case and armband from
the iriver store
). I think it gets big points on style for just being really sleek, smooth, and black. It's not adulterated with any symbols on the face, and the information on the back is quite reserved. Even the side button labels aren't too big (after playing with it for just a bit, you won't need them). What's really impressive is the navigation though. I was a little skeptical about the d-click navigation, but it's more intuitive to me than the iPod wheel. I love that rather than copy the iPod or the
Zune
, they went for something fairly original here in just having these 4 giant buttons on the edges of the device. It's pretty easy to use with just one hand if you're wearing a jacket and don't want to have to look at the screen, and there's never any confusion with icons on the screen to help you navigate. Holding the right button always brings up a side menu, and that's the most complicated thing you need to understand. I had the hardest time navigating my old Sansa, so this was a breath of fresh air for me. The only other buttons are power, volume, hold, and the smart key. I'll admit that the hold button can be a little tricky to get to, but I think you'll get used to it. Also, the volume buttons may seem backwards if you're looking at it from the wrong angle, but I got used to that pretty quickly. The smart key is excellent: it can turn the screen on/off, change the orientation, play/pause, go to the home screen, start/stop recording, shuffle, or do a/b repeat. You just change a quick setting and that's it! I think that key was a stroke of genius, because I may care more about easy of play/pause than battery life so I may want it to play/pause rather than turn the screen off, etc.
The next thing I want to cover is music. It supports all the most popular music file types and any Windows Media Player-based subscription services (including Rhapsody with free firmware update). The sound quality is very nice, in my opinion. I'm far from an audiophile, but I noticed a difference immediately from the sound I'm used to hearing out of my Shuffle. You get a full stereo effect, and you can really get immersed in your music, even at the gym (because I bought this thing primarly for the gym, I may keep referencing that) where it's relatively noisy.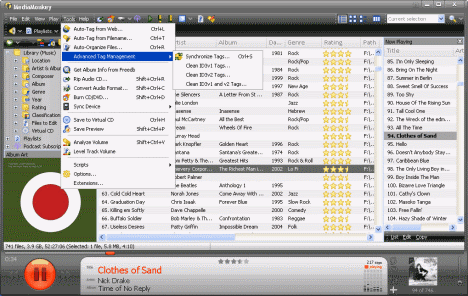 You can create however many playlists as you want on the computer, which I've only managed to get working on the iRiver Plus 3 software. That's the software that came with the device, and it's not bad though I wouldn't make it your new music management program. I've decided to betray the memory-hungry iTunes for
Media Monkey
, which does an excellent job of letting you auto-tag your songs from Amazon. Plus, when it tags your album art, it puts it in the tag (iTunes just dumps them in a folder), and the
Clix
will only show album art from the mp3's tag. I recommend adding all your music folders to iRiver Plus 3, and then just create playlists with the songs you want in your favorite music program and drag them into a playlist in iRiver Plus 3. Then, just load them onto the device this way (you don't even need to actually use this playlist on the device, it' s just to keep the songs in one place). This way, it'll automatically be organized on the device. Otherwise, if you just drag-and-drop, you have to rebuild the database on the device. By the way, file transfers are quite fast. Anyway, it does support MTP mode if you really like Windows Media Player, but I like UMS/MSC for loading videos and pictures easily in Xplorer2 and using iRiver Plus 3, which is quite lite. I don't even know how to load themes (see below) and Flash games on there in MTP mode (I haven't tried MTP). In addition to the album art and song information, you get the progress bar and what song is coming up next, which really comes in handy. You can also set the equalizer settings, change the playback speed, change the scan speed (very handy for long podcasts), show lyrics, rate it, and change the playback mode (e.g. shuffle, repeat once). You can also build-up a quick list on the device just by holding the right button when showing songs to get to that menu with all those options and adding a song to the quick list. You only create one of these, but I can't imagine that you'll need more than one of them.
It also supports podcasts and
Audible
, though Audible books are only usable in MTP. You can choose MTP or UMS/MSC mode, but you have to format in between changes so make sure you back-up the device before doing so. It claims that podcast support is only in MSC/UMS mode, but if they're just .mp3s then I can't see why you can't use them in both modes. I think it means for
mypodder
support, which comes on the device by default. You don't need mypodder though: all you really need to do is drag and drop songs into a 'Podcasts' folder in 'Music' and you can get to them straight from 'Podcasts' on the device rather than searching artist or genre or anything (though in MTP mode, you may need to). I really wish you could bookmark in podcasts, but I heard that you can in Audible books. Oh, and one thing about UMS/MSC mode: unlike the iPod you can drag your content to and from the device. So it doubles as a flash drive (on the iPod, you can't take your music from it, only put it on).
The FM Radio it sports is quite nice. It does an excellent job of auto-presets, and I only have trouble with reception where I have trouble with cell phone reception. My radio on my Sansa never worked, so believe in this device having a real radio, which you can record from. You can also record your voice (apart from the radio) because it has a mic built-in, and you can turn on a setting that will ignore all noise except for your voice. This works surprisingly well: the recording is nice and crisp, and you can even choose the quality.
I should probably mention that the
AMOLED
screen it supports is incredible. It also packs a
Lithiom-ion polymer
battery, which is just the next generation of Li-on. It has the same problems, but it's cheaper to make and more robust to damage. Anyway, the AMOLED screen has no backlight: it's just ridiculously bright on its own because it holds its charge so well, and it has a 180 degree viewing angle. Plus, since it requires less power (made of organic material) you can get 5 hours of battery life on just video and 25 of just audio. You can completely charge the device in just 2 hours (via mini-USB, or the cradle accessory that no one seems to like). I can attest to this being pretty accurate, though I haven't worn it totally down. Like any Li-on, it'll degrade over time, but I imagine it'll take a long time for most users.
This screen does a very nice job with your pictures and videos. You can create playlists with your pictures and play them in slideshow mode with music playing in the background. It really shines on video playback though: it's like you're watching video on a nice LCD TV except that it's been shrunk to 2.2". If you get the silicone case then you can even use the belt clip as a kickstand to place it on the table while you watch your video. I've managed to watch a 40-minute TV show with no problems, and the audio even came out quite well. It's really ideal for video podcasts (e.g.
Revision 3
), but I've put a couple of DVD movies on mine. Sure, it's a little smaller because the letter boxing is more on widescreen films (I haven't tried a full screen because I don't own any), but still watchable in pieces. I've been converting my movies to .avi using
iRiverter
because it only supports OpenXvid .avi (and some strain of .wmv), and I've found iRiverter to be the easiest (plus, it runs nicely in the background without disrupting the speed of your computer much at all). iRiver includes media conversion software on the software disc, but you can see all
your options here
. I managed to convert a DVD in about 80 minutes and a TV show in under 20 minutes on my old school P4. I like that it will remember your place in your videos (this can be turned off), too, and you can set the scan speed.
My absolute favorite part of this device though is how customizable it is. Because it's running
Flash Lite
, you can create your own themes (with animated backgrounds and a different background for each day of the week) or download them online. The Korean iRiver site had a contest last year so there's a ton of really nice ones floating around (just check the
ClixHere
forums for them). These are some stills from
one
of my favorites:
You can also add whatever fonts you want (as long as they're true type) to be used pretty much everywhere text is displayed on the device, which includes foreign language fonts. Not only is one unique in having this device since a lot of stores don't seem to carry it, but you can be unique from other
Clix
users in your theme and font, and you can change it as often as you'd like to keep you from getting bored with it. How many other mp3 players let you do that? Since they're small in size, you can put a lot on there and still keep your mp3s and videos even if you have a 2GB model (it comes in 2GB, 4GB, and 8GB). Oh, and you can change the screen orientation (configurable to that smart key button, if you'd like) in case you don't like it being in landscape mode. It feels natural in any orientation, though I always use landscape just as a personal preference.
The last thing to talk about are the extras. If you have any text files with maybe a todo list or something, you can drag them right onto to the device and read them. It also has a handy alarm clock with a nice quick alarm option (e.g. 10 minutes from now). The best extra is the
flash games
: they provide you with a bunch of games already and I've found more free ones from browsing the
ClixHere
forums. They're really fun and include a frogger clone, blackjack, sudoku, a tetris clone, pacman, and many others (plus applications like a calculator or memo pad). Anyone who develops in Flash Lite is free to create content for it! There's also a bunch of other settings including sleep timer (can sleep or power-off) and screen brightness.
I think that about covers it. You probably think I'm a little nuts for writing such a detailed review, but I wanted to be thorough because there's just so much to talk about in this tiny little thing (and iRiver has no idea how to advertise it, clearly). As you can tell, I'm thrilled with it and I had to really think hard to find any bad points. Just to give you a quick summary...
Pros:
-Very nice battery life (Li-py)
-Extremely bright, high quality AMOLED screen
-Intuitive navigation (D-click and smart key work great)
-Fast! It's quick to charge, load content onto, and skimming pictures and videos and such on the device.
-Not intrusive at all at the gym (lightweight, nice form factor, good with the misticaudio silicone case)
-Impressive sound quality (even on low-end headphones) and video quality
-Completely customizable (theme and font)
-Actually usable FM radio
-Flash games!
-You can create playlists on the computer (my Sansa couldn't) or a quick list onthe device
-Voice/FM radio recorder (can filter out noise for the mic)
-Stylish (and unique)
-Fun to use (I still haven't gotten bored with it)
-It actually has a very customizable equalizer
Cons:
-Expensive ($240 retail for the 8GB red line, but you can find it cheaper at
Amazon
)
-Hold button can be hard to get to
-You have to get used to the volume keys' orientation
-No bookmarking on podcasts
-The iRiver Plus 3 software is nothing special, but if you drag-and-drop music you have to rebuild the database on the device
-An output to TV would've been nice
-If you really want to be nit-picky, the screen could be a tad bigger, but then you'd lose some of the nice form factor and big easy-to-find buttons
If you want other opinions, I love the
Pocketables
one, and the
Anything But iPod
one isn't too shabby either. I highly recommend this device if you're looking for something in the iPod Nano market but with a bigger screen and more features.
I have plenty of news to talk about that hopefully I'll get to later this weekend. Tomorrow is the Travis County Democratic Convention though, so I'm going to bed!